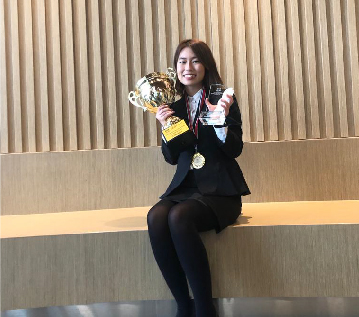 An unforgettable and precious journey – The HKICPA Business Case Competition 2020
Ms. Dabby Ip, PACC student
It is with immense honour and privilege that I got an opportunity to share the amazing journey in the HKICPA Business Case Competition my teammates and I had. All the days and nights which our team spent on discussion, execution and revision of our presentation could still be vividly depicted in my mind. When the judges and MCs announced our team to be the champion of the year, everyone in the team were in great awe.
Being in a group of year-two and year-one students, we were not as experienced as the seniors in terms of knowledge and skills such that we felt very anxious and unprepared at the beginning. The HKICPA Business Case Competition was definitely a challenging task and we struggled a lot before submitting the application. At last, we decided to "give it a try". This thought brought us a lot of unexpected outcomes and opportunities. Everything was new to us and we enjoyed the process of learning by doing and exploring. Stepping out of our comfort zone was one of the biggest lessons we learnt. We almost failed because of not giving our first step.
Attitude was another crucial matter on the road to succeed. All of us spent great efforts and were committed throughout the competition. This attitude gave us the calmness and braveness to deliver our messages in a clear and smooth manner at the final presentation. Meanwhile, giving our best is also a way to express our respect and thankfulness to this significant event.
Lastly, I would like to take this opportunity to extend our gratitude to HKICPA, our university, professors, and all the people who gave us a hand or chance. We hope all the PACC students could be a better version of ourselves by learning and trying endlessly, and strike for the same and even more success in the future.