S

haring from Global Accounting Stream Students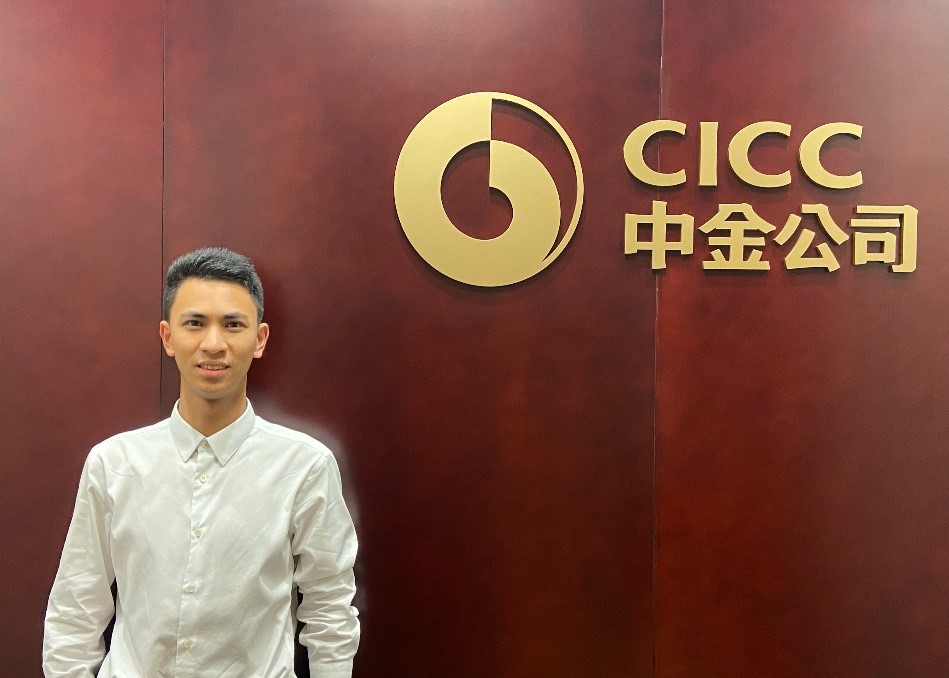 A sharing of internship experience in an investment bank – Kevin Lin
Q: Can you share with us one of your internship experiences?
A: I joined China International Capital Corporation Limited ("CICC") as a summer analyst at the Mergers and Acquisitions Team in the Investment Banking Department. CICC is an investment bank providing professional financial services such as investment banking, equities, private equity as well as asset and wealth management for clients.
Q: What did you do during your internship?
A: I assisted in a photovoltaic giant's acquisition deal. Utilizing data from various financial terminals such as Wind, Capital IQ and Bloomberg, I conducted thorough industry research as well as business, strategy and financial due diligence. These analytical procedures helped mitigate risks in an investment decision. I also assisted in several valuation and report writing exercises in the process. As a deal involved a lot of different teams, I worked with many seniors which helped polish my communication and coordination skills.
Q: Is accounting relevant in your internship experience?
A: I would like to say that accounting know-how is essential for analysing data, in particular financial information. Let me use the due diligence exercise as an illustration. Due diligence is an investigative analysis of a company. It is therefore imperative to understand the company's financial performance and key financial data. For instance, to evaluate the potential success of a company's debt restructuring exercise, analysing financial ratios such as debt ratio and the cash balance is necessary. You need to know how to interpret the information in the company's financial statements in order to make sensible financial forecasts and these require accounting knowledge. Besides, many deal details involve structure design and legislative requirements. These also require a precise understanding from the accounting perspective.
Q: What are the key takeaways in your internship?
A: The internship significantly polished my data analytical skills and enhanced my written as well as oral communication proficiency. On top of that, it strengthened my technical accounting knowledge and financial sense. It helped apply what I learnt in the Professional Accountancy Programme to real-world scenarios!
Say "YES" to Every Opportunity – Hinson Wong
Having a throwback to the journey in PACC, I find the most influential quote to my university life is "Say 'Yes' to Every Opportunity".
"Is it a must to join case competitions as a business student?"
This was a question I raised when conducting an interview with another business school. I was so afraid of rising to challenge at the beginning.
"Hey! We are looking for a teammate in a case competition.
Are you interested in joining us?"
Being invited by several senior students, I joined my first case competition, with much hesitation, when I was still a freshman. I thought I would be "freerider" in the team due to my lack of experience. As I was not psychologically prepared, I could not say I learnt a lot from this experience. However, this case competition sparked my curiosity of how to properly address complex business issues.
"Why not?"
This was the reply I gave to my batchmates of the Global Accounting Stream when they invited me to join case competitions in my second year of studies. With the interest developed in tackling business problems when I was a freshman, I became more open to challenges as a year-2 student. With an adjusted mind and thoughts, this time, I treated the case competitions seriously. Unfortunately, I found my limitations. I understood I have to equip myself with a lot of skills and techniques in order to go through the process, such as, how to perform efficient and effective market research, how to structure the problems, how to conduct projections to financial forecasts and evaluate the strategies we proposed. Through coaching by my teachers as well as professors and with several trials, my team got the Champion in the HSBC Financial Innovation Challenge 2018.
"What's next?"
I then received an invitation to join the CGMA Global Business Challenge (North Asia) in 2018. I believe this would be a great opportunity to consolidate my learning and compete at a regional level. After performing a thorough analysis on the case, which was about the luxurious motor vehicle industry, we tried to "think out of the box" and came up with a proposal which included innovative ideas on improving the financial and operational performance of the company. After countless rehearsals in our hotel room in Beijing, we brought home the 1st runner-up in this regional competition. Since then, I have become fascinated in companies in the electric vehicle industry which urged me to learn more about their performances in the financial markets. These are the takeaways I have never thought of, originating from a "YES" I said at the very beginning.
Apart from case competitions, studying at the PACC programme with a "YES" attitude also provided me with a number of invaluable experiences. Joining the departmental student society as the president helped build my professional network and I met a group of life-long friends. Joining an academic exchange programme in the University of Manchester for a year widened my global exposure. Working as interns in the accounting and banking industries let me have a taste of the professional world stimulating me to think more about my future career.
I trust everyone can build a special story of yourself, with this "YES" attitude, where all of mine begins.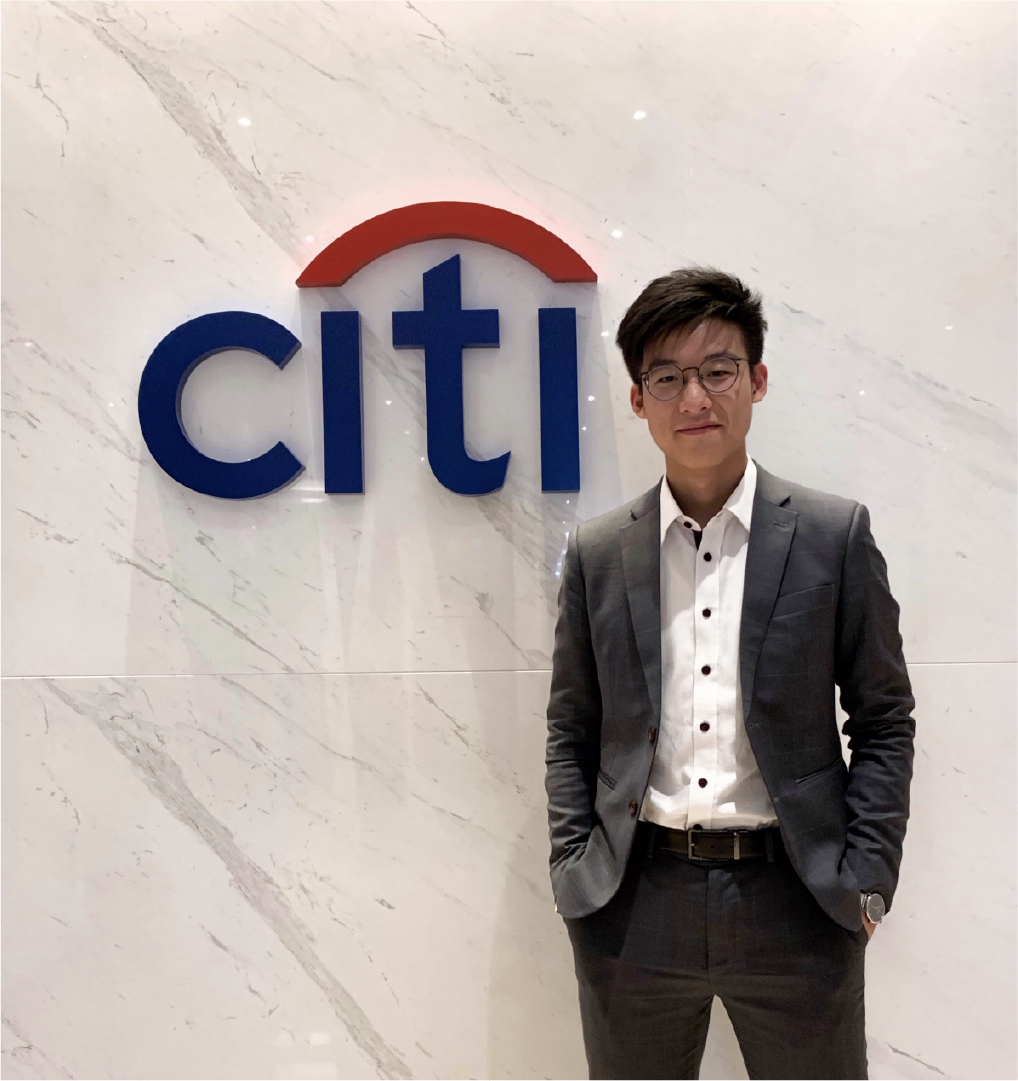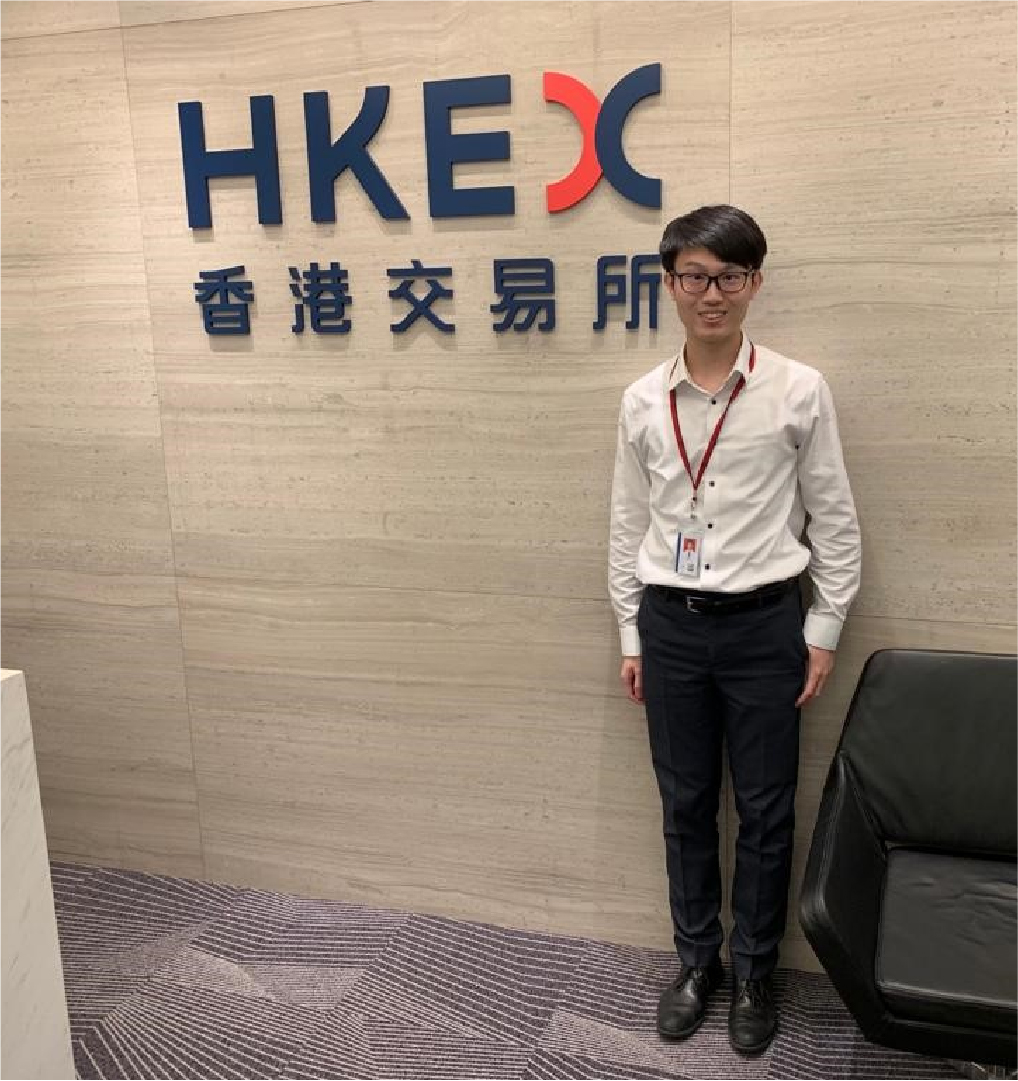 My Summer Internship Experience in Bloomberg and HKEx — Ivan Lee

Internship is considered as remarkably valuable and important for our future career path. A beneficial internship provides us with an incredible experience to apply what we have learnt to the workplace and gain first-hand exposure of working in real business world. Throughout my university life, I worked in Bloomberg and Hong Kong Exchanges and Clearing Limited (HKEx) as a summer intern. Such valuable experience enriched my knowledge to the industry and gave me a great opportunity to get connected and expand our professional network.

The internship programme in the Global Finance department in Bloomberg this summer is one of the most challenging yet rewarding experiences I have ever had. In the hard times of COVID-19, the programme was shortened to seven weeks and became virtual. Fortunately, I still got the chance to have my rotation, working with both the Accounts Payable (AP) and Customer Financial Service (CFS) teams. Working remotely was a new experience to me and many other colleagues. We used to have two large monitors in the office, with an amazing pantry that allows us to chitchat and expand our network with other interns and people in other departments. The limited communication became the biggest challenge of working from home. However, thanks to the advanced technology and my professional team, I could easily reach out to them when I faced any difficulties so that I could learn quickly. I also expanded my network by connecting to colleagues in the Sales & Analytics and Global Data teams. This enabled me to fully understand the culture of Bloomberg and how the company works.

Without prior hands-on knowledge of the role of in-house finance, my team gave me a series of trainings and shadowing sessions to let me understand the operation of the department. Other than relatively routine tasks such as processing invoices in the accounting software, I have been involved in streamlining the operations of the AP team which significantly enhanced the team's efficiency in handling vendors' enquiries. I also witnessed the power of "digital finance" under which technology such as robotic process automation (RPA) boosted the productivity of the finance team. At the end of the intern, I utilised my experience in both the AP and CFS teams to propose some new ideas in my final presentation to all staff in the Finance department in APAC.

Last summer, I had an incredible experience in HKEx. Before joining this internship, I had limited idea on what compliance is and how accounting could be applied in regulatory bodies. This internship was a 8-week programme in the Listing & Regulatory Affairs department, focusing on accounting affairs. One of the main tasks during my intern was to assist in the financial statement review of over 1,000 selected listed companies, with a focus on the quality of disclosure in the financial statements based on the requirements of the listing rules and financial reporting standards. On one hand, this translated my textbook knowledge to practical situations; but on the other hand, it helped me realise that real-world situations were far more complicated that we learnt in class. I had to quickly equip myself with the essential knowledge through reading the guides published by major accounting firms and of course the help from my mentor and supervisors. This not only enhanced my knowledge in the listing rules and learnt about the latest updates of some financial reporting standards but also let me understand the important role of accounting information in maintaining the fairness in the capital market.

Overall, the internship experience in Bloomberg and HKEx are extraordinary and I enjoyed the time working with the teams. Being a 
Global Accounting (GA) Stream
 student, I am thankful to have unique exposure in a variety of areas – be it academic knowledge, case competition workshops or study trip – throughout my university life. This trained up my inherent advantage in dealing with countless numbers, the ability of attention to details, as well as problem-solving and communication skills. These characteristics are highly valued and extremely useful in the professional workplace.

If you ask me to give a piece of advice to the junior students, I would say "be proactive and dare to try". Seize every opportunity and learn as much as you can. I am sure your efforts will be paid off.
Adventure in the World of Taxation – Lily Chan
Debate is not uncommon on campus, but tax debate is a rather new and distant topic for university students. No wonder I felt surprised when the inter-university Tax Debate Competition, organized by the Taxation Institution of Hong Kong, was promoted in the Fall Semester of 2014-15. How debates, which focus on controversial topics, and taxation, which is a practical and technical profession, come together? Yet, my perception of taxation is totally turned around after this competition.
The competition was held during weekend in mid-May. It was intense. Our team, which consisted of four CUHK Accounting students, went through three rounds of debates in two days. In each round, we debated one motion related to Hong Kong taxation with representatives from another university in Hong Kong.
The tax debate competition gives me a new perspective of taxation. I used to think that taxation is a technical profession – applying the Inland Revenue Ordinance to cases, calculating the tax payable and writing objection letters. However, taxation is a boarder subject. I was able to research on different kinds of tax not charged in Hong Kong, such as value added tax and environmental protection tax. It is also a good opportunity to learn more about tax systems outside of Hong Kong, and we often made references to Singapore and Taiwan tax cases. More importantly, the tax debate gave me a new insight into what tax is. Taxes are not only legal obligations for taxpayers, they also can be policies used by governments to influence market participants' behavior. The topic for our final round of debate is a good example – whether real estate tax should be introduced in Hong Kong to solve the housing problem. Before that, I never thought of tax policies as a means to tackle everyday problems like shortage of housing.
My communication skills were also polished. Despite our little knowledge about debate, communication skills helped our team take the championship home. Unlike usual presentations, we kept interacting with our dear opponents in the whole process. We listened to them, we raised questions on inconsistencies in logic in their speeches and responded to their challenges. Meanwhile, we convinced them with sufficient supporting evidence. During the process, I realized that communication is never a one-way presentation. Stay open-minded, seek common ground while reserving differences, are what I have learnt in these two days.
Last but not least, the competition reminds me of the importance of team spirit. With such a tight schedule, division of labor was inevitable and improved efficiency. However, we insisted on reviewing each other's work and going through every ambiguous concept together. As we were part of the team, our individual speeches were part of the main argument, but elaborated using different approaches. They all served the same goal or main point. With that sense in mind, we crosschecked each other's work to ensure consistency in everything we delivered. It helped us clarify our understanding of the topic and avoid mentioning contradictory information, so that we could formulate consistent and logical arguments throughout the tax debate.
In conclusion, it is like an adventure in the world of taxation, which is much bigger and more interesting than what I had thought of before. It also polishes my communication skills and reminds me of the importance of team work.