A Capstone Journey of the PACC Curriculum

Many people have a perception that an accountant's job is to merely deal with numbers. "Quite a number of students who studied accounting in their high school will immediately link accounting to journal entries, debits and credits." Dr. Edmund Wong, Director of the Professional Accountancy ("PACC") Programme said, "That refers to bookkeeping and does not describe accounting comprehensively. Accountants should be able to apply their technical knowledge, with the help of financial and business information, to solve business problems. This is one of the objectives of our Programme." To help our students fulfil such learning outcome, the PACC Programme introduces its capstone course Capstone Project: Business Ethics and Entrepreneurship with an overall aim to provide students with practical opportunities to apply their knowledge to real-world business situations.
The capstone project requires students to work in teams to prepare a holistic business plan so as to drive the strategic development of an organisation. The PACC Programme collaborates with the Association of Chartered Certified Accountants ("ACCA") and the CFA Institute through the adoption of the case question in the ACCA-CFA Institute Business Competition. The competition aims to advocate a new growth mindset for future professionals driving business success which coincides with our Programme's learning objectives. Anthea Cheng, a PACC final-year student, took the capstone course and commented, "The capstone project enabled me and my fellows to reflect on the role of accountants in business. A successful business is contingent on its ability to learn and innovate which brings forward continuous improvement and evolution in processes and technology."
In driving business success, accountants do play an important role. Anthea added, "An accountant has to consider the practicality of a proposed strategy and helps transform an innovative idea into a reality with budgeting and feasibility studies which ensures the long-term success of the business."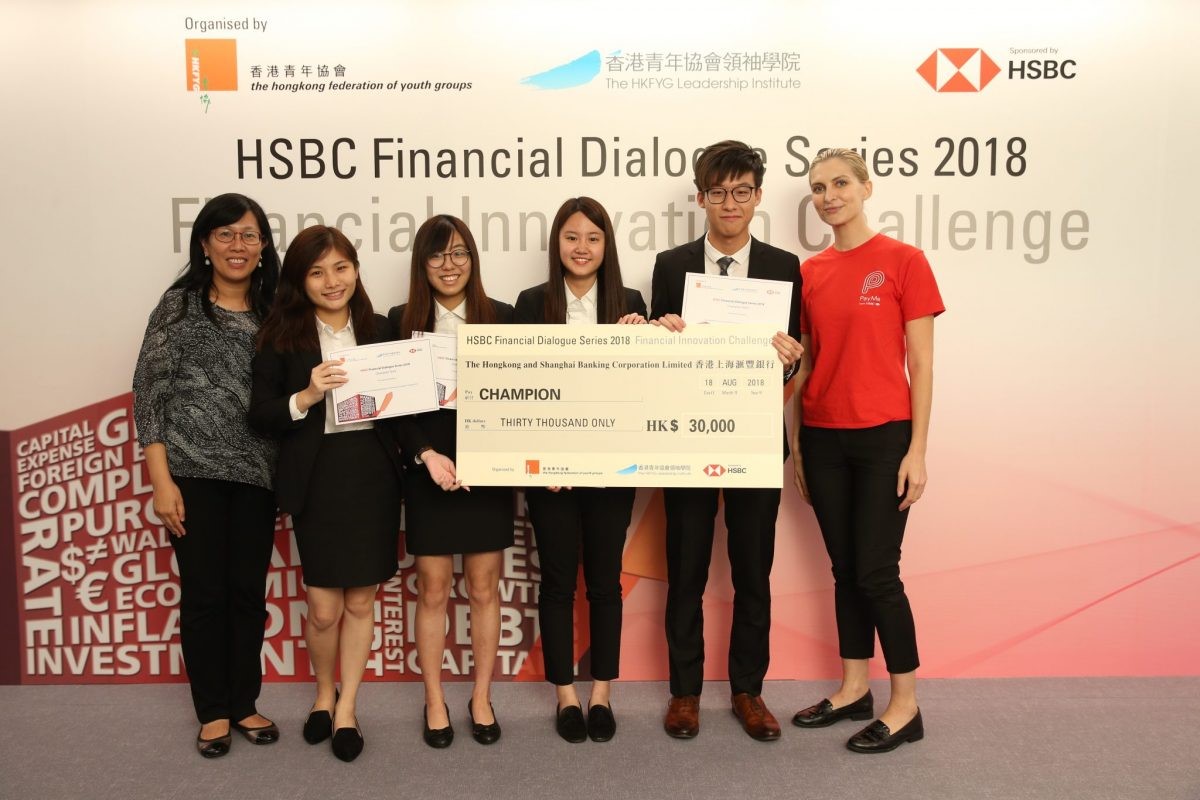 Anthea Cheng (second from left) actively participated in both local and international business case competitions during her four-year university life. She and her team won the champion of the HSBC Financial Innovation Challenge in 2018.
Mr. Eric Leung
, Associate Director of the PACC Programme and the course co-ordinator of the capstone project agreed and further commented, "It is crucial for an accountant to communicate with business units, gather and analyse information, as well as present the financial feasibility studies to the top management. A strategy without a proper financial evaluation is detrimental to businesses. An accountant can therefore serve as business consultant or partner providing professional advices to businesses."
The PACC curriculum stresses on students' awareness on ethics and social issues. To let our students appreciate the roles of accountants on how to tackle with such issues in practice, the capstone project requires the teams to solve social issues like environment and sustainability in such business plan. Alice Zhou, another PACC final-year student who completed the capstone project, said, "While the capstone project strengthened my ability to evaluate the practicality of business proposals as an accountant, it urges me to reflect on the importance of ethics in businesses. Particularly, the experience extended my horizons beyond the narrow interests of the firm and left me thinking more about how to deliver positive outcomes for all the stakeholders resulting in long-term sustainability."
Alice joined the business competition organised by ACCA in her penultimate year. Alice and her team, being one of the eight finalists of the competition in 2018/19, was awarded with the Research Excellence Award. "Compared with what I did in the ACCA competition a year ago," Alice said, "I was able to work out a more logical, practical and complete presentation in my final-year. What I have learnt in my accounting-related courses throughout the entire curriculum extensively makes me become more sensitive to business issues when solving problems."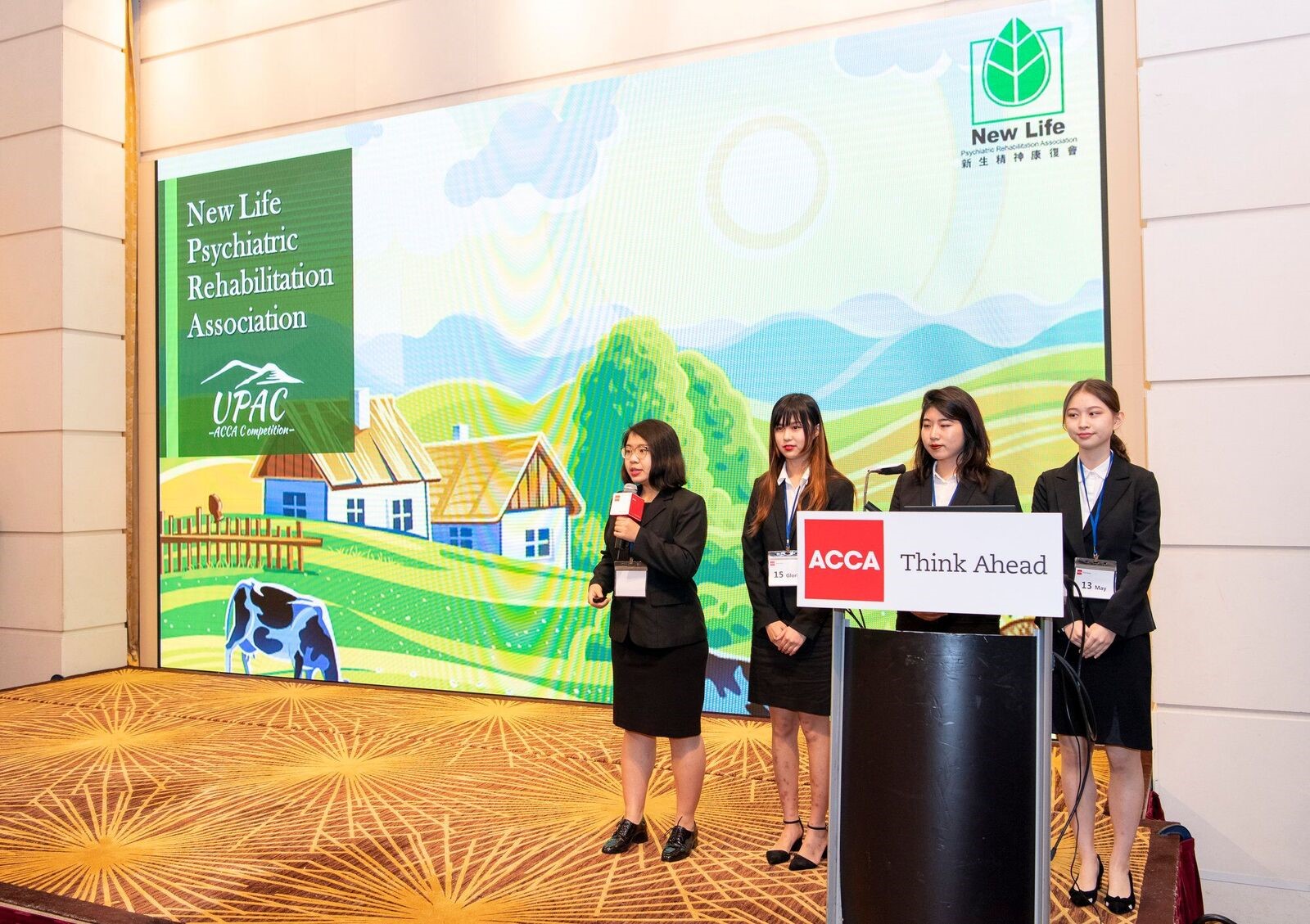 Alice Zhou (first from left) and her team doing the presentation, as one of the eight finalists, in the ACCA Hong Kong Business Competition 2018/19
This capstone course involves small group instruction in a flexible format with teachers acting as facilitators guiding the students through the learning process. Prof. Jacky Chau, one of the teachers leading the capstone project said, "Our capstone project emphasises on active learning by students. In tackling certain issues, students may need to integrate knowledge across multiple business disciplines and come up with creative solutions. We hope to foster an environment in which students can learn from each other through the collaboration in group projects and the sharing of ideas in discussions and presentations. The experience should be highly beneficial to the students as they embark on their careers."
To prepare students to demonstrate the skills required in this capstone project, the Programme adopts case-based teaching in various courses and provides experiential learning activities such as case analysis workshops and professional seminars conducted by industry leaders. With close collaboration with professional bodies, the Programme aims to nurture future leaders in accountancy and business.
Major required courses (60 units)
(all are 3-unit courses unless specified)
Major elective courses (9 units)
(all are 3-unit courses unless specified)
ACCT2111
Introductory Financial Accounting
ACCT3005
(2 units)
Accounting Field Study & Experiential Learning
ACCT2121
Introductory Management Accounting
ACCT4211
Accounting Information in Capital Market
ACCT3003
(1 unit)
Professional Seminar Series
ACCT4212
China Business Valuation and Analysis
ACCT3004
(2 units)
Accounting Practicum & Experiential
Learning (for Global Accounting Stream only)
ACCT4213
Financial Statement Analysis and Valuation
ACCT3111
Financial Reporting I
ACCT4215
Contemporary Accounting Issues in Global
Market (for Global Accounting Stream only)
ACCT3112
Financial Reporting II
ACCT4221
Strategic Management Accounting
ACCT3121
Cost and Management Accounting
ACCT4231
Internal Auditing and Risk Management
ACCT3142
Contemporary Accounting Information
Systems
ACCT4232
Forensic Accounting and Audit Analytics
ACCT3151
Business Law
ACCT4242
Accounting Data Analytics for Business
ACCT3152
Company Law
ACCT4243
Data Visualisation in Accounting
ACCT3161
Taxation
ACCT4251
Regulation and Compliance in the Financial
Markets
ACCT4001
(2 units)
Capstone Project: Business Ethics &
Entrepreneurship
ACCT4252
Corporate Restructuring and Insolvency
ACCT4111
Advanced Financial Accounting
ACCT4253
Chinese Legal Environment for Business
ACCT4131
Auditing
ACCT4261
Taxes and Business Strategy
DSME1030
Economics for Business Studies I
ACCT4262
China Taxation
DSME1040
Economics for Business Studies II
ACCT4263
International Taxation
DSME2011
(4 units)
Statistical Analysis for Business Decisions
ACCT4271
Corporate Governance
FINA2010
Financial Management
ACCT4281
Applied Accounting & Financial Strategy
MGNT1020
Management
ACCT4282
Reporting Issues in the Financial Service
Industry
MGNT2511
(1 unit)
Global Experiential Learning I
MGNT2512
(1 unit)
Global Experiential Learning II
MGNT4010
Strategic Management
MKTG2010
Marketing Management