GA Study Trip 2023 – Japan (Osaka, Kobe and Nagoya)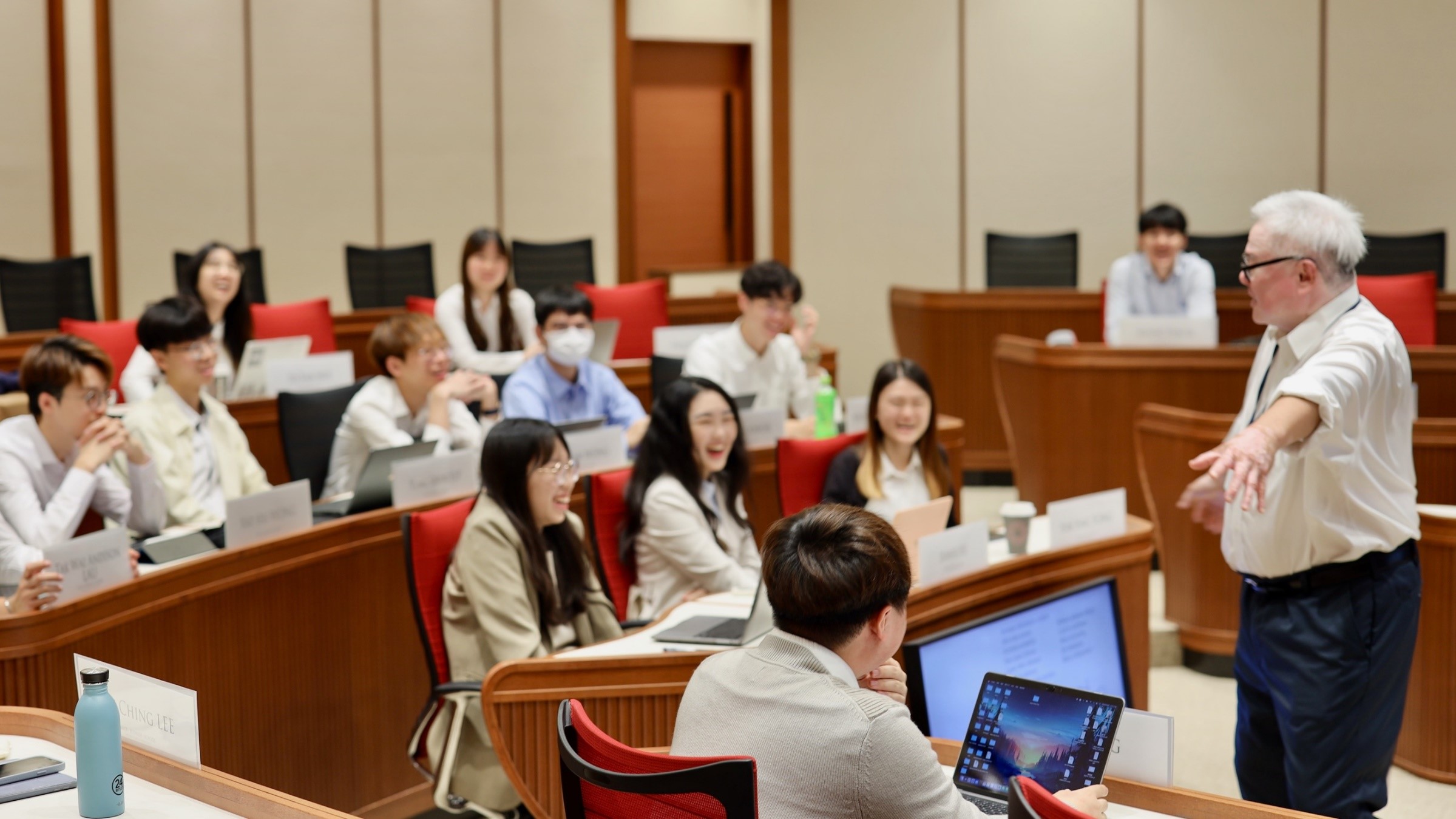 In May 2023, the Professional Accountancy Programme ("PACC") organised an 8-day study trip, led by Mr. Eric Leung (Co-director, PACC), for the Global Accounting ("GA") stream students to Osaka, Kobe, and Nagoya in Japan.  "The pandemic limited our chances to go for an overseas exchange.  This study trip is my first overseas learning experience in my tertiary education."  Zoe LEE (PACC (GA)/Year 4) said. "It helped develop my cross-cultural perspectives." 
The pandemic accelerated digital transformation and sustainable development to which accountants can contribute.   During the trip, the students joined a seminar organised by the NUCB Business School in Nagoya on Digital Analytics and Big Data in Asia. "The two-hour seminar was very interactive." Lanka YU (PACC (GA)/Year 2) said, "We built the conceptual knowledge collaboratively with the help of the professor and the seminar ended with a hands-on experience, working in groups, on how a recommendation system works with big data.  The learning activity stimulates my reflection on the power of data in solving business issues and how businesses should use data ethically."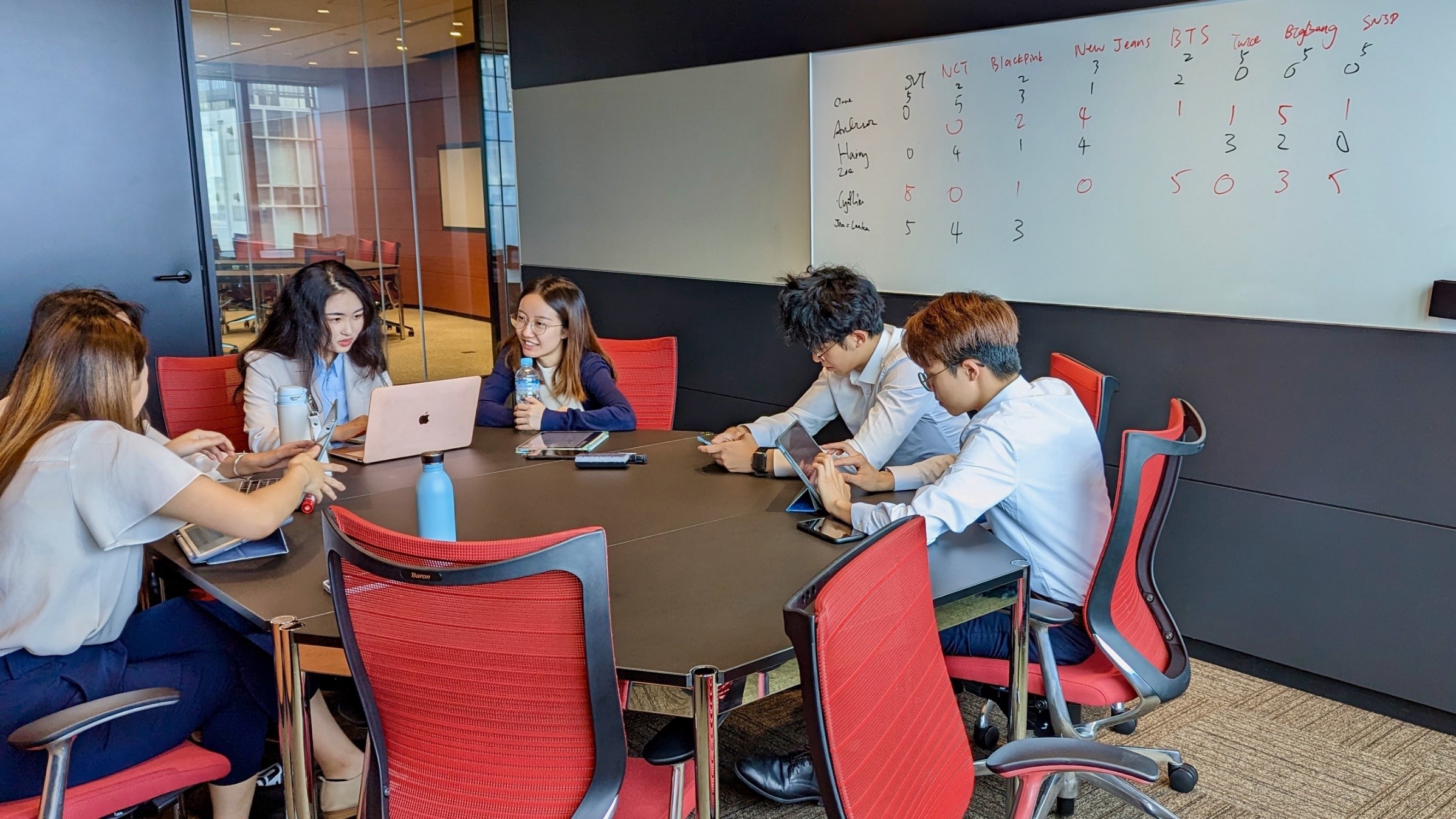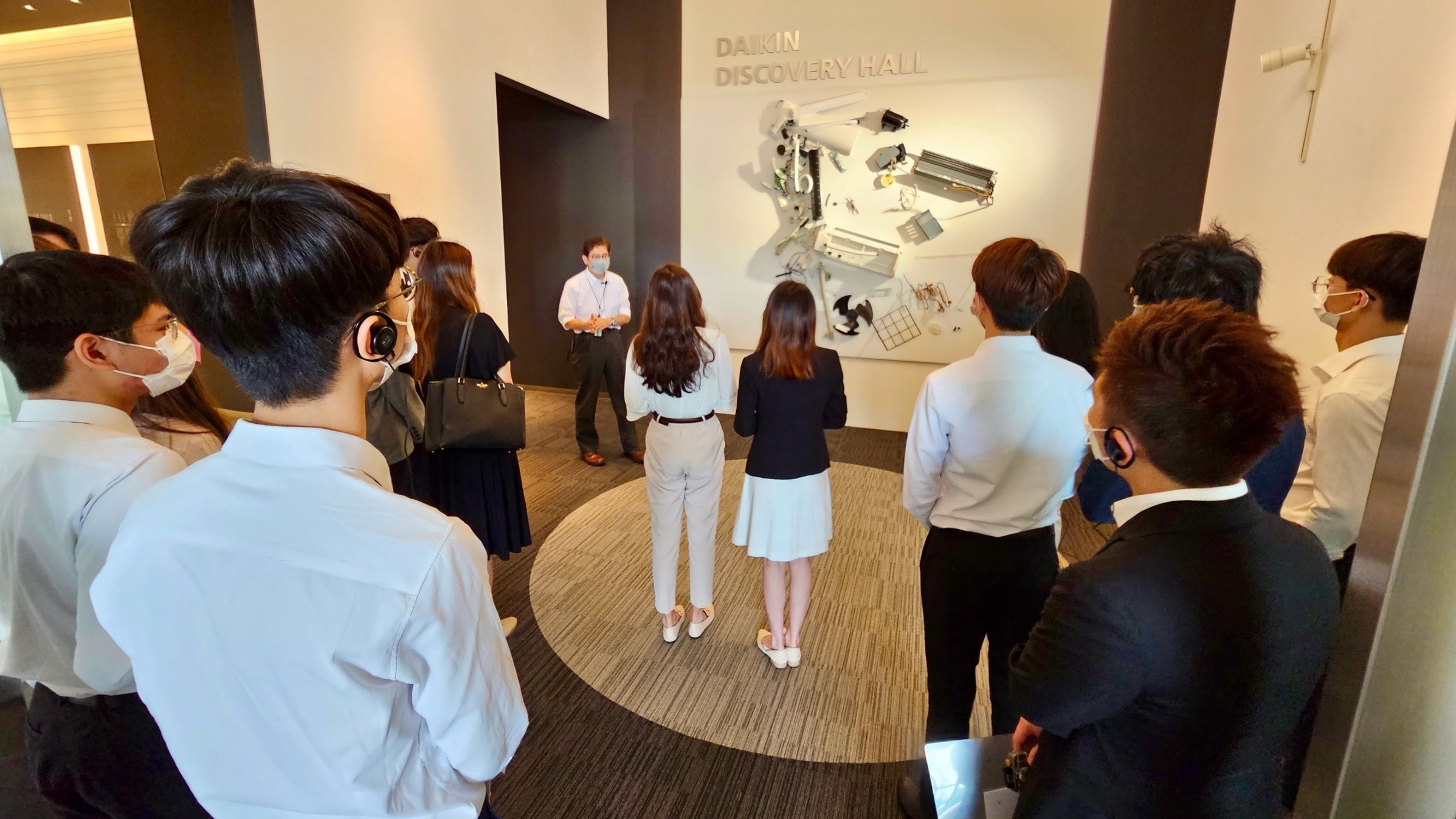 The laboratory tour and the sharing session hosted by Daikin, the world's leading air-conditioning manufacturer, in Osaka further let students witness how corporations use technology to achieve sustainability goals.  Stitch HUI (PACC (GA)/Year 2) commented, "We visited the Technology Innovation Centre of Daikin which helps me understand why it is crucial for businesses to devote resources in innovation and technological advancements."  Tiffany WONG (PACC (GA)/Year 2) agreed. "Technology, on one hand, helps the company save operational costs and on the other hand reduces energy consumption contributing to building a greener society."
Sustainability is, however, not limited to environmental protection.  The students visited the factory of Asahi Forge Group which manufactures and distributes forged parts for automobiles, bearing and construction machinery.  "It was a precious experience to visit a factory engaging in the heavy industry and observe how parts are heat-treated."  WONG commented after the visit to Asahi Forge's factory.  "The company is committing to, through technological advancements and automation, the creation of a safer, cleaner and more comfortable workplace for its employees which forms a critical part of its Environmental, Social and Governance strategies."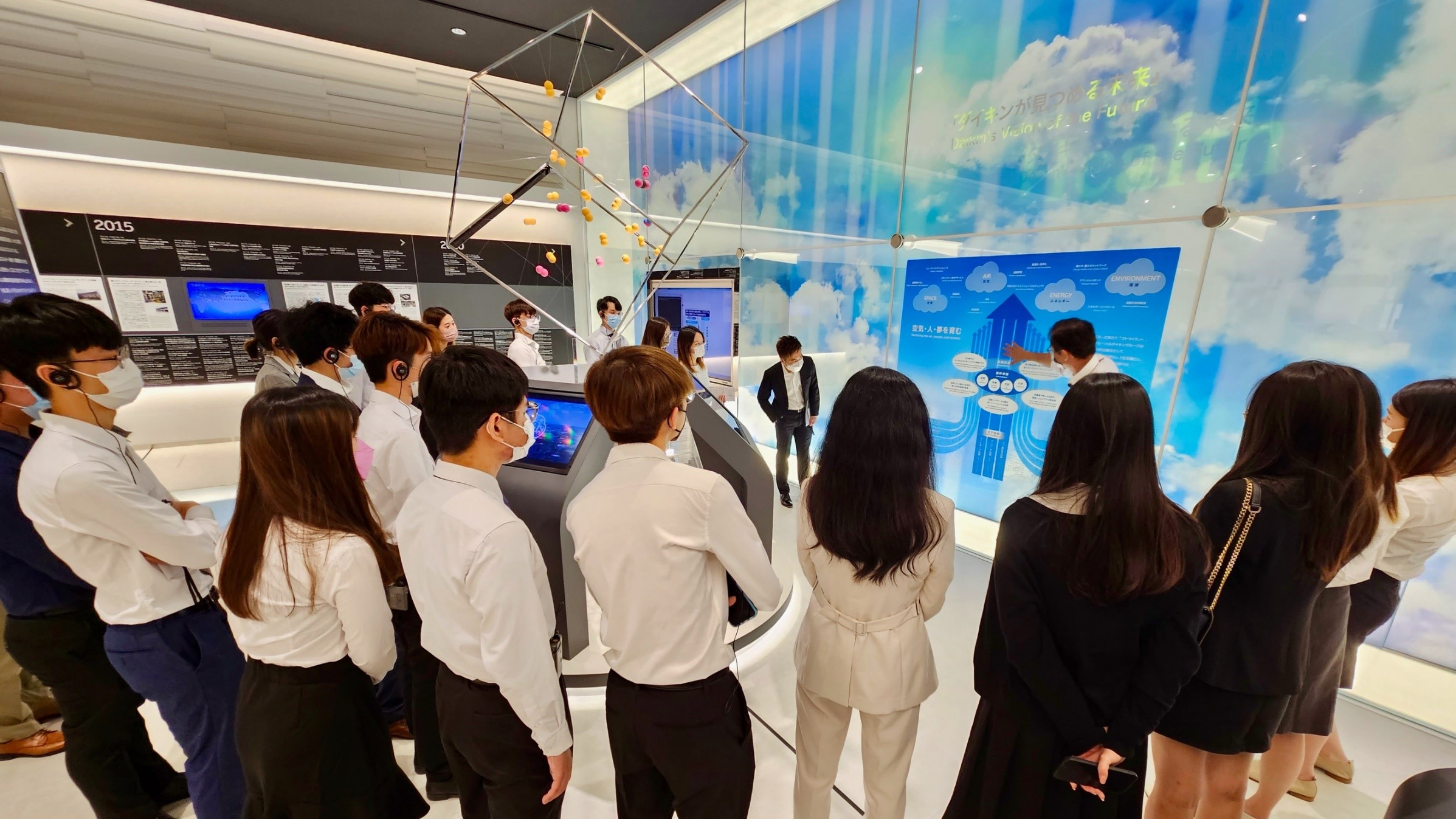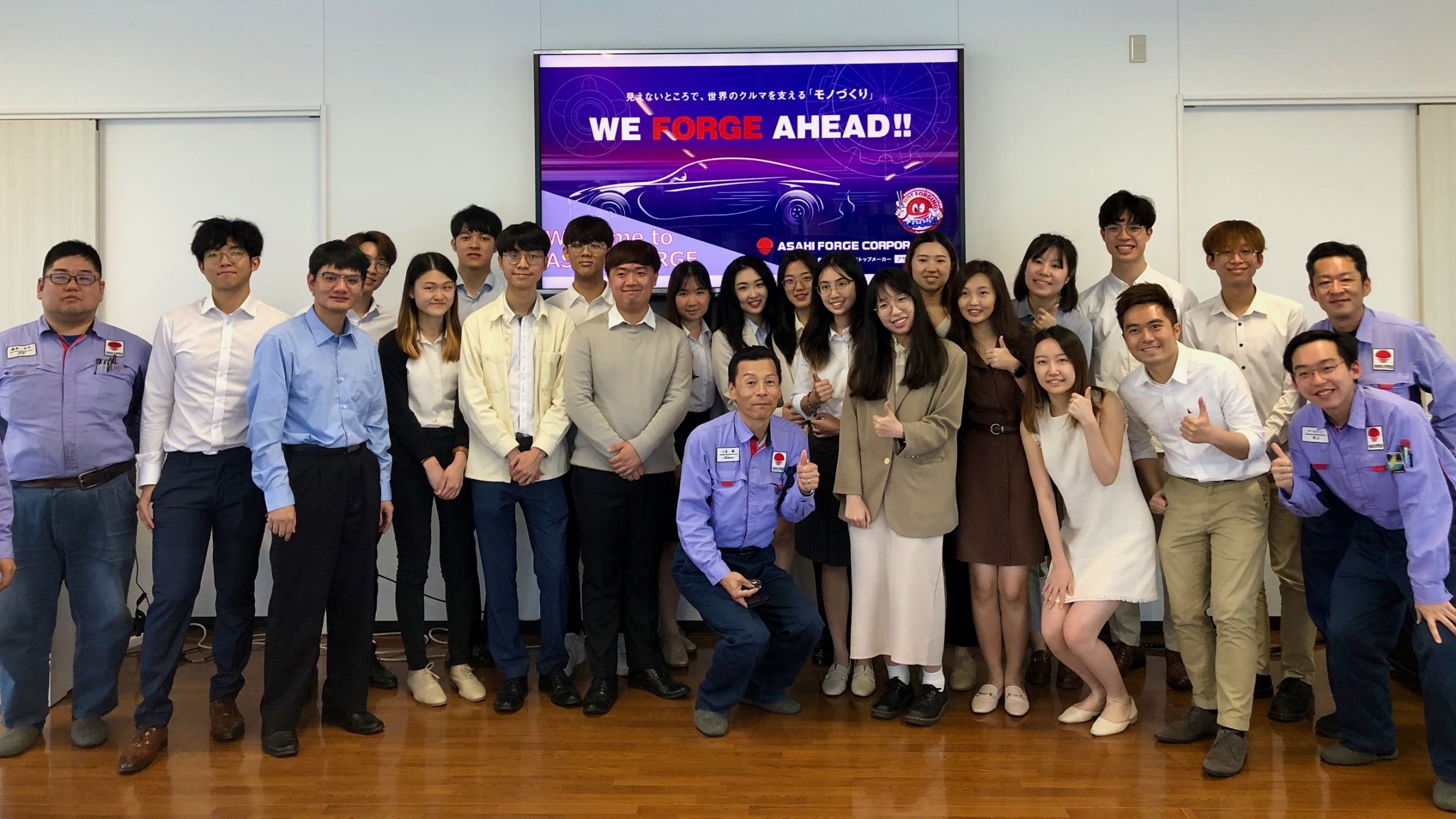 One of the objectives of the study trip is to provide students with an opportunity to extend their network and exchange thoughts with the people at the organisations they visit.  Nicholas KWOK (PACC/Year 2) remarked, "Before the study trip, we were required to look at various business-related issues in Hong Kong and Japan.  Our group made a presentation on entrepreneurship and the start-up ecosystem in Hong Kong as the pre-trip assignment.  The visit to the Start-up Division of the Aichi Prefectural Government in Nagoya deepens my understanding of how a local government promotes innovation and manages talent which is always highlighted as an important issue in places all around the world."  HUI recalled another experience during her trip, "We visited the Alpen Group's headquarters in Nagoya.  The sharing session provided us with a comprehensive overview of its operation as a sports product manufacturer based in Japan.  It lets me appreciate the culture of a Japanese corporation, its operating philosophy, and the significance of adjusting its strategies actively when facing the complex and urgent challenges in the ever-changing business world."
The group had a chance, after attending three seminars in Kobe University, to mingle with the local and international students studying there.  "The students at Kobe University were very friendly and welcoming.  They shared their study experience with us, and it was nice to learn about the culture and experiences of people from different countries."  Ivan LI (PACC (GA)/Year 2) concluded.  "The study trip blended theoretical knowledge with practical exposure which is inspirational.  This experiential learning activity greatly improves my critical thinking and inter-personal skills."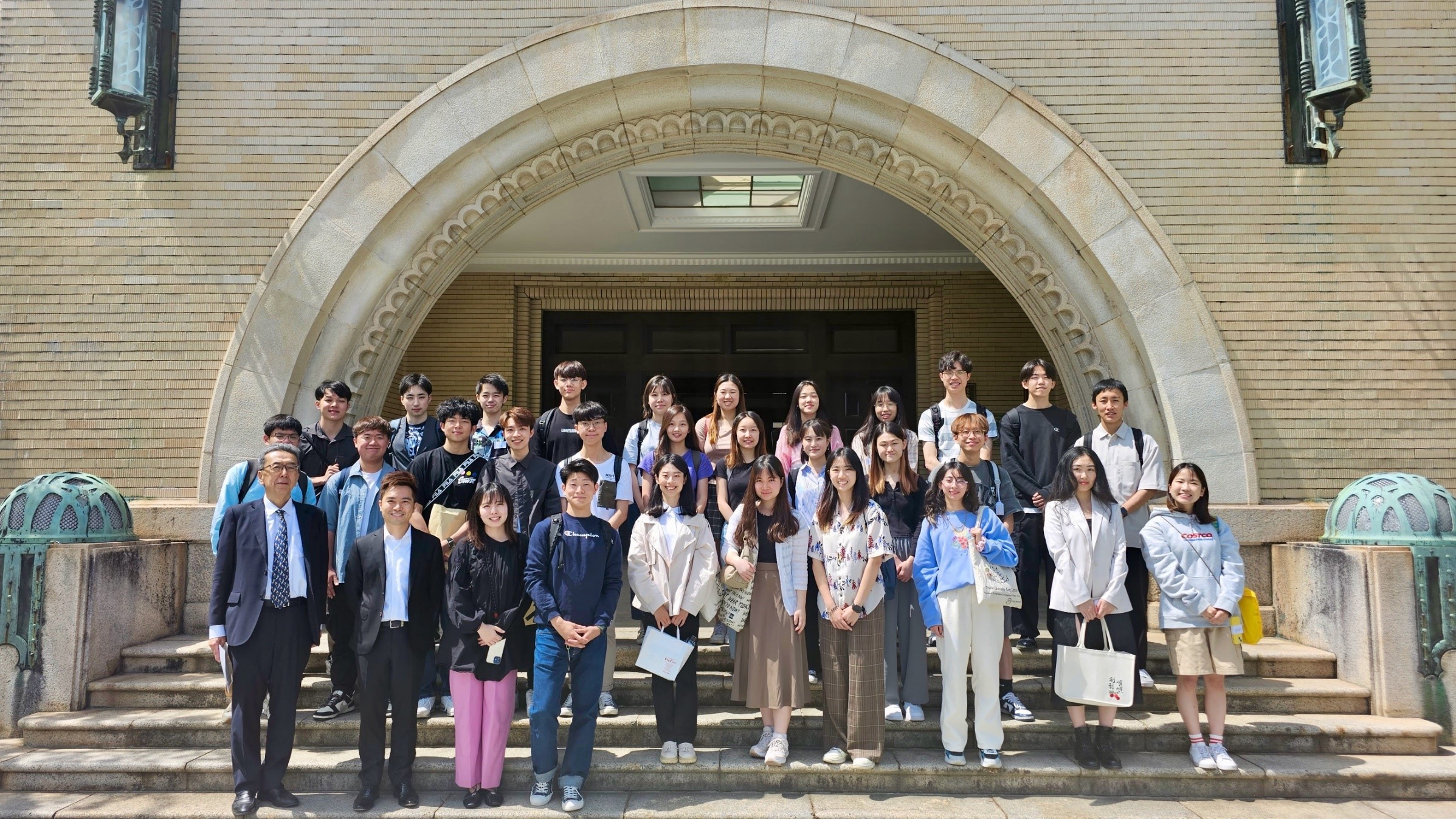 The study trip forms part of the course requirement of the Global Accounting stream of the Professional Accountancy Programme.  Students are subsidised through the stream admission scholarship donated by alumni, industry leaders and professional firms which covers the expenses of the trip.
GA Study Trip 2019 – London (UK), Lausanne (Switzerland)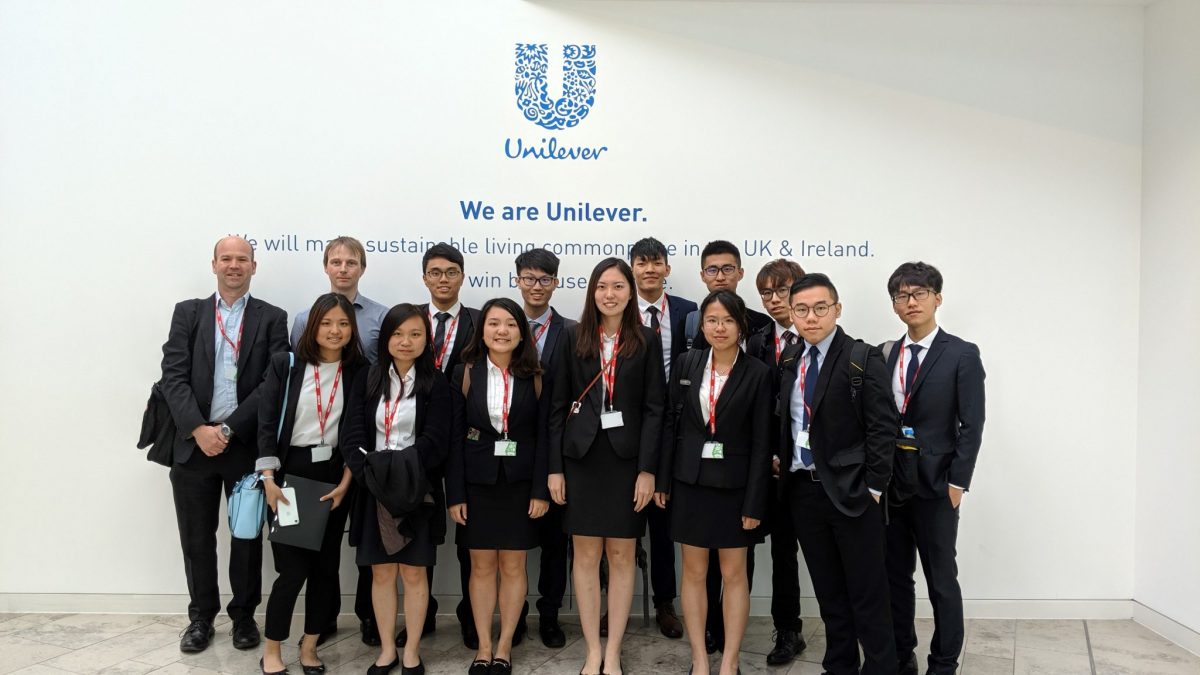 Led by Mr. Eric Leung (Associate Director, Professional Accountancy (PACC) Programme), a group of 12 Global Accounting stream students went on a 2-week study trip to the United Kingdom (UK) and Switzerland in June.
With the help of the Association of Chartered Certified Accountants (ACCA) and the Chartered Institute of Management Accountants (CIMA), the group visited the head offices of Barclays and Unilever in London to understand the role of accounting in the banking and fast moving consumer goods (FMCG) industries. "In the presentation by the finance team at Unilever, we heard about an interesting budgeting method called 'zero-based budgeting' which is different from the traditional budgeting approach we learnt in class." Patrick So (PACC (Global Accounting), Year 2) said. "The finance team explained to us how such approach helps reduce operational costs. This is my first time to see how practical accounting information can be used at a strategic level."
As part of the UK visit, students attended a seminar at the Judge Business School of the University of Cambridge. Li Changhao (PACC (Global Accounting), Year 2) recalled his experience and said, "Dr. Michael Willis introduced how a company's environmental impacts would be included in the preparation of financial statements. His step-by-step guidance of a real-life case inspired me much as Dr. Willis demonstrated interactions between accounting, law and risk management relating to climate change."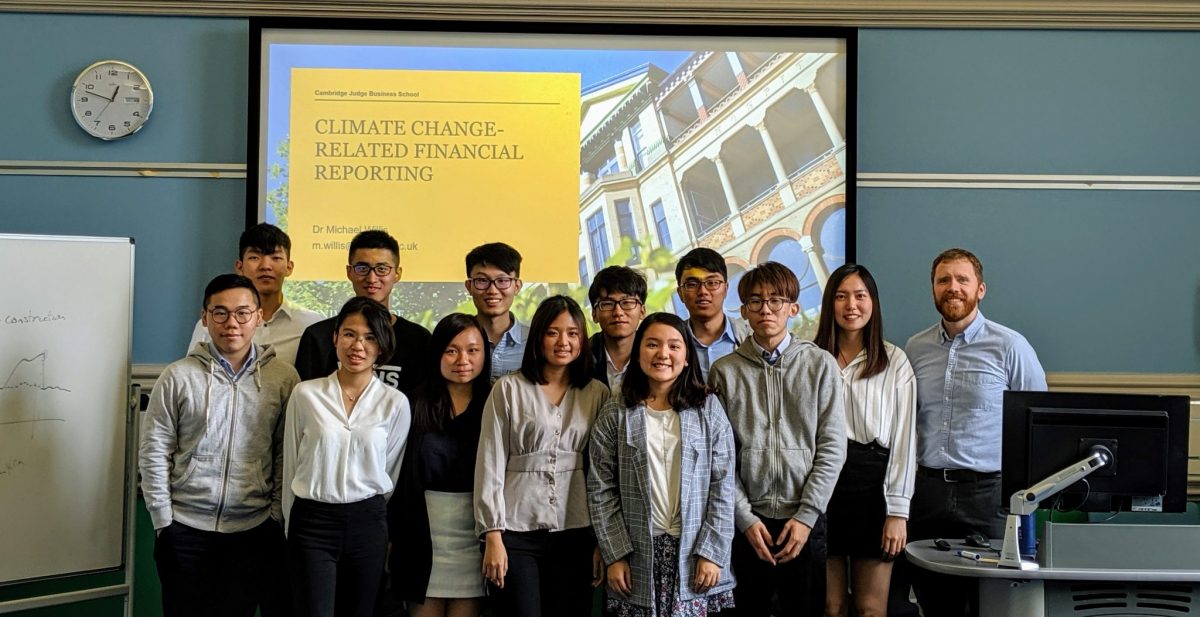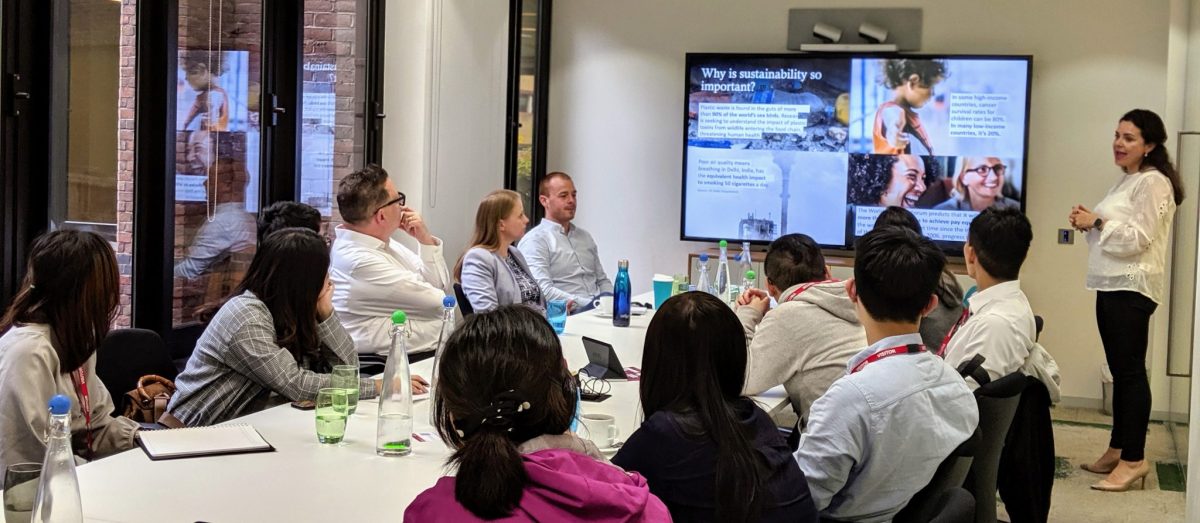 The lecture was followed by a corporate visit to AstraZeneca, one of the largest global biopharmaceutical businesses. "AstraZeneca's global sustainability team shared with us how the business achieves its sustainability development goals. The team highlighted their practical approach in implementing sustainability strategies which are far more than just focussing on environmental protection," Li added.
The trip continued with another week in Switzerland, with 14 CUHK
Master of Accountancy Programme
students joining the group. PACC (Global Accounting Stream) student Nick Wong commented, "The scenery of Switzerland is always breath-taking, so is her innovation performance." Themed as The Future Banking, the sharing session hosted by Swissquote, a leading provider of online financial and trading services, demonstrates why Switzerland can retain crown as the 'world's most innovative nation'. "We always hear about FinTech. The demonstrations of its key digital investment products during our visit to Swissquote let us understand how algorithms help offer new solutions to clients," Wong added.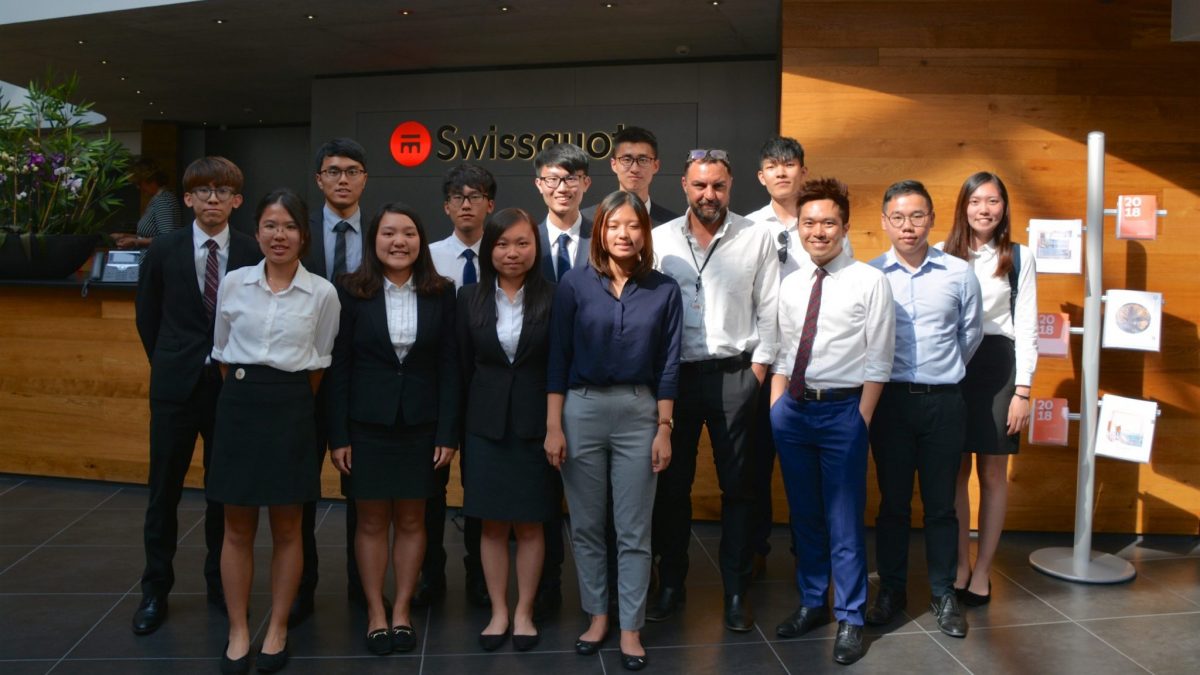 One of the key features of this study trip is students are required to present their recommendations to various identified business issues in two Switzerland-based companies. One of the cases is related to Reuge, a manufacturer of traditional music boxes with over 150 years' history. "Running a business is much more than just writing up a proposal. You can never come up with a convincing strategy without paying attention to an important attribute – feasibility. Different from cases in our traditional assignments, this real business case analysis requires us to take everything into consideration rather than just creating something 'grand'," concluded Wong for his presentation experience to the CEO and the Global Sales and Marketing Director of Reuge.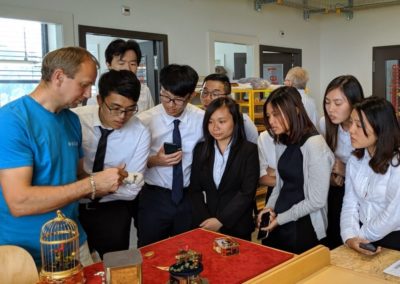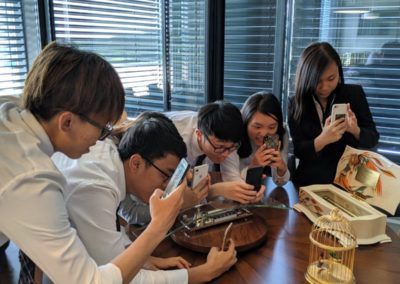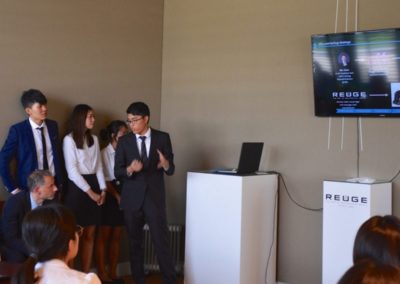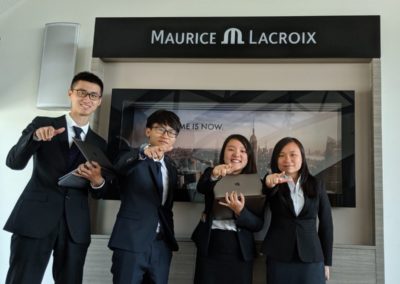 To enrich the students' understanding of different accounting-related issues further, the group attended lectures at the University of Lausanne. Student Sachiko Surjono recalled her two-day classroom experience, "Many of the lectures touched on topics not being covered in our curriculum at CUHK. One of them is related to the valuation and accounting disclosures of football clubs which are very popular in Europe. We might know how to conduct a simple valuation of a traditional company. However, during this seminar we were made aware of how to use accounting information to value a football club!"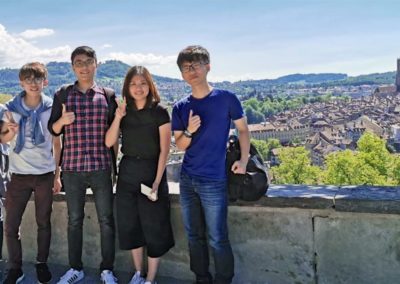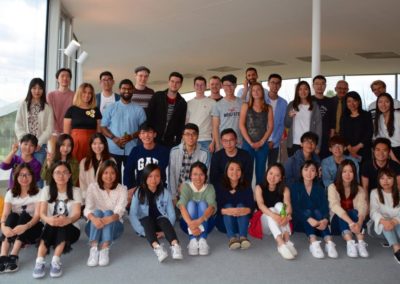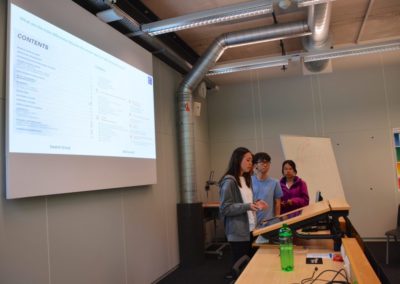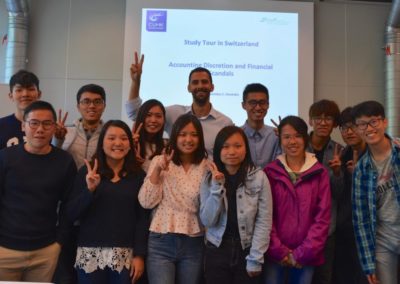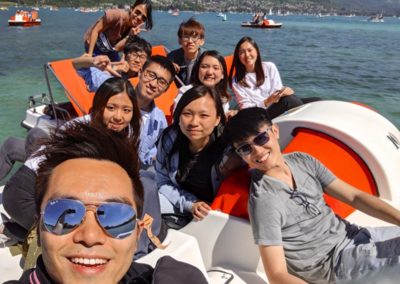 GA stream students actively participate in various community services. For example, a group of GA students participated in the rickshaw race during the 18th ACCA Community Day.
GA stream students also achieved outstanding results in various case competitions. For example, 1st Runner Up and Best Future Business Leader Award in CGMA Global Business Challenge 2018, Championship and Best Presenter Award in the Financial Innovation Challenge of the HSBC Financial Dialogue Series 2018; Championship and Best Presenter Award in the Tax Debate Competition; Championship of Peak Time 2016, outperforming 18 finalist teams from top business schools around the world; World's Top 10 Final Presentation for the AAB's International Conference, etc.